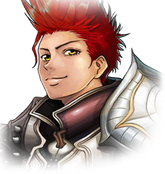 Kris is from the Warrior Class and can be obtain via the Hero Emblem (Warrior). He is one of the first obtainable Mercenary's in the game.
12 out of 15 skills available.
Rush of Anger
Shout of Threats
Giant Blow
Weapon Hitback
Swirling Storm
Secondary
Edit
Weapon Specializing
Skin of Steel
Soul's Thirst
Warrior's Instinct
Insanity Thrills
Mercenary
Edit
Strong Spirit
Digestion Enhancement
Ad blocker interference detected!
Wikia is a free-to-use site that makes money from advertising. We have a modified experience for viewers using ad blockers

Wikia is not accessible if you've made further modifications. Remove the custom ad blocker rule(s) and the page will load as expected.